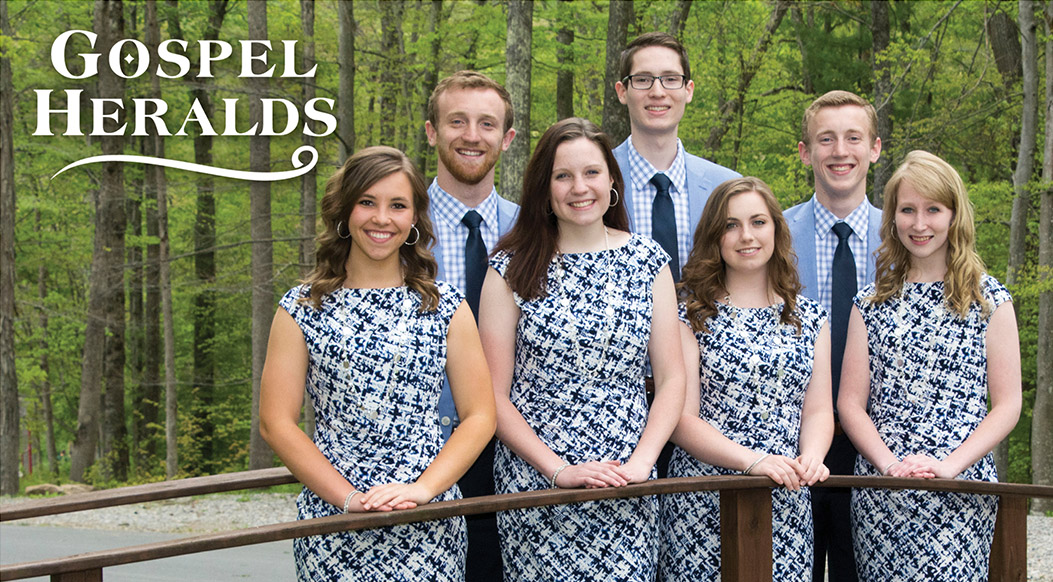 Men: Zachary Rinehart, Luke Mullins, Wesley Rinehart
Ladies: Maddy Meece, Emily Bartlett, Hannah Reed, Virginia Harper
Director: Mr. Roger VanMaasdam
"Run…that ye may obtain" (I Corinthians 9:24). For believers, losing the race of life is not an option. God commands and empowers us to be winners! As we run, He provides us with heroes of the faith to encourage and inspire us.
The Gospel Heralds of Appalachian Bible College present Commanded to Be Winners, a program celebrating the examples of Bible heroes and challenging each of us to live faithfully and run victoriously.
The team of seven students uses vocal and instrumental music along with testimonies to minister to churches and youth groups. Selections vary from "Joshua Fit de Battle of Jericho" to "It's Still the Cross" and "Find Us Faithful." Concerts are free of charge and engaging for all ages.
Date
Time
Ministry
Location
Previous Locations
10:00
PM
Cranberry Baptist Church - YOUTH RALLY
201 Cranberry Dr, Beckley, WV 25801
3:00
PM
Faith Missionary Baptist Church
701 West MacCorkle Avenue, St. Albans, WV 25177
10:30
PM
Cove Creek Community Church
541 Co Rte 13/3, Saxon, WV 25180
11:00
PM
Mount Calvary Baptist Church
Mount Calvary Baptist Church, 1154 Dry Hill Road, Beckley, WV 25801
11:00
PM
Covington Bible Church
2140 S Carpenter Drive, Covington, VA 24426
11:00
PM
Harvest Baptist Church
Harvest Baptist Church, 201 Lucas Drive, Blacksburg, VA 24060
2:00
PM
Antioch Christian Church
246 Antioch Christian Church Rd, Bear Creek, NC 27207
10:00
PM
Berean Baptist Church
517 Glensford Dr, Fayetteville, NC 28314
11:00
PM
Baptist Temple of Alamance County
2224 Anthony Rd, Burlington, NC 27215
11:00
PM
Bethel Baptist Church
238 Dixon Rd, Graham, NC 27253
5:00
PM
ABC Ladies Conference
161 College Drive, Mount Hope, WV
12:00
PM
ABC Ladies Conference
161 College Drive, Mount Hope, WV
3:00
PM
Valley Independent Baptist Church
80 Old Route 219, Huttonsville, WV
10:00
PM
Maple Valley Baptist Church
1026 Maple Fork Rd Mount Hope, West Virginia
10:30
PM
Spring Run Bible Church
20722 T R 531, Spring Run, PA 17262
10:30
PM
Fellowship Baptist Church
3727 Oneida Valley Rd, Emlenton, PA 16373
11:00
PM
Delevan Baptist Church
18 Church St, Delevan, NY 14042
11:00
PM
Bakerburg Community Church
197 Grey Valley Road, Mainesburg, PA 16932
3:00
PM
Pines Brook Baptist Church
1444 Pines Brook Road, Walton, NY
10:00
PM
Central Baptist Church
1606 NY Route 12, Binghamton, NY 13901
11:00
PM
Twin Valley Bible Chapel - YOUTH RALLY
105 Shirktown Rd, Narvon, PA 17555
11:00
PM
Twin Valley Bible Chapel
105 Shirktown Rd, Narvon, PA 17555
11:00
PM
Pennwood Bible Church - YOUTH RALLY
440 Hospital Drive, Everett, PA 15537
11:00
PM
Pennwood Bible Church
440 Hospital Drive, Everett, PA 15537
2:30
PM
Emmanuel Baptist Church
1318 N 16th Street, Clarksburg, WV 26301
10:00
PM
Monongah Baptist Church
256 Lyndon Avenue, Monongah, WV 26554
11:00
PM
West Virginia Miners game
Linda K. Epling Stadium, 200 Stadium Drive, Beckley, WV 25801
10:30
PM
Good News Baptist Church
1600 W 15th St, Muncie, IN 47302
11:00
PM
Grace Bible Church
601 Blue Ridge Road, Columbia, MO 65201
10:00
PM
Abilene Bible Baptist Church - YOUTH RALLY
409 North Van Buren Street, Abilene, KS 67410
1:30
PM
Red Rocks Baptist Church
14711 W Morrison Road, Morrison, CO 80465
10:00
PM
Mesa Hills Bible Church
615 W Uintah St, Colorado Springs, CO 80905
11:00
PM
Rocky Mountain Bible Church
Rocky Mountain Bible Church, 600 E Main Street, Frisco, CO 80443
11:00
PM
Eagle Baptist Church
14600 Hwy 6 Gypsum, CO 81637
10:00
PM
Fruita Faith Baptist Church - YOUTH RALLY
180 S Elm Street, Fruita, CO 81521
11:00
PM
Fruita Faith Baptist Church
180 S Elm Street, Fruita, CO 81521
2:15
PM
Beth Eden Baptist Church
2600 Wadsworth Blvd, Wheat Ridge, CO 80033
10:30
PM
Arvada Baptist Church
8350 Pamona Drive, Arvada, CO 80005
10:00
PM
Beth Eden Baptist Church - YOUTH RALLY
2600 Wadsworth Blvd, Denver, CO 80033
11:00
PM
Abilene Bible Baptist Church
409 N Van Buren Street, Abilene, KS 67410
11:00
PM
Edgemont Bible Church
5100 N Illinois Street, Fairview Heights, IL 62208
10:00
PM
Ebenezer Baptist Church - YOUTH RALLY
6935 Twp Rd 234 SW, Logan, OH 43138
12:15
PM
Ebenezer Baptist Church
6935 TWP Rd 234 SW, Logan, OH 43138
11:00
PM
Weirwood Community Church
86 Willis Branch Loop, Mount Hope, WV
11:00
PM
Piney View Bible Church - YOUTH RALLY
11:00
PM
First Baptist Church
125 Grand Avenue, Wellington, OH 44090
11:00
PM
First Baptist Church of Niles
26 E Church St, Niles, OH 44446
10:00
PM
North Baptist Church - YOUTH RALLY
1223 Belsay Road, Burton, MI 48509
3:00
PM
North Baptist Church
4004 Lennon Rd, Flint, MI 48507
10:00
PM
Grace Bible Church
201 Michigan Avenue, Owosso, MI 48867
11:00
PM
Anchor Baptist Church
315 Sumner Street, Genoa City, WI
10:00
PM
Calvary Baptist Church - YOUTH RALLY
469 Airport Avenue, Wisconsin Rapids, WI
2:00
PM
Camp Fairwood
W7878 S Pleasant Road, Westfield, WI
10:00
PM
Calvary Baptist Church - YOUTH RALLY
N84W19049 Menomonee Avenue, Menomonee Falls, WI 53051
3:00
PM
Baptist Tabernacle
7816 Dubois Rd, Carlisle, OH 45005
10:30
PM
First Baptist Church
13887 Jennings Rd, Van Wert, OH 45891
11:00
PM
Mt. Olivet Baptist Church - Youth Night
6532 MacCorkle Avenue, Charleston WV 25304
11:00
PM
Mt. Olivet Baptist Church
6532 MacCorkle Avenue, Charleston WV 25304