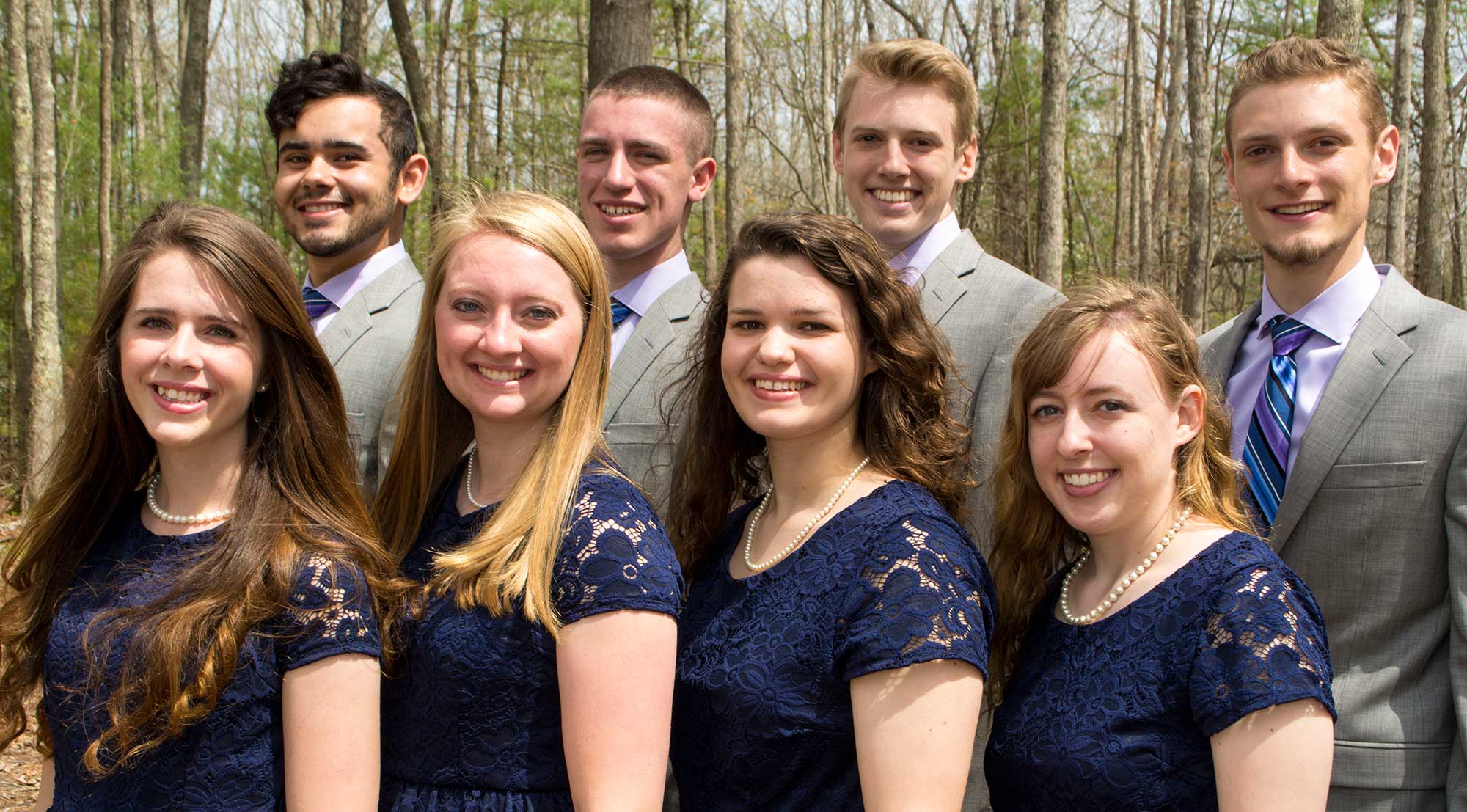 Men: José Yustiz, Luke Stevens, Timothy Hock, David Hock
Ladies: Hannah Bailey, Abigail Anderson, Ruth Brown, Hannah Jones
Director: Mr. Roger VanMaasdam
"The grace of our Lord was exceeding abundant with faith and love which is in Christ Jesus" (I Timothy 1:14). The Appalachian Bible College Gospel Heralds present Grace Overflowing, a musical program that celebrates God's grace in our salvation with songs like De Good Ole Gospel Train and Amazing Grace, and in our Christian life with selections such as Were It Not For Grace and In Christ Alone.
The Gospel Heralds also present a drama about Nicodemus and Joseph of Arimathea, devout Pharisees who struggle with letting go of their traditions to become followers of Jesus. Through their story, we see how God transforms our own spiritual understanding from Law to grace.
It is the Gospel Heralds' prayer that by experiencing their music and drama, you will realize anew—or for the very first time—the life-changing, overflowing grace of God.
Date
Time
Ministry
Location
Previous Locations
10:00
AM
Madison Missionary Baptist Church
13400 SR 335 Lucasville, OH 45648
6:00
PM
Berean Baptist Church
5526 Winchester Ave, Sciotoville, OH 45662
7:00
PM
First Baptist Church
925 E. Fountain Grove Dr. Bryan, OH 43506
7:00
PM
Victory Bible Church
1100 Locus St, Canal Fulton, OH 44614
7:00
PM
First Baptist Church
125 Grand Ave. Wellington, OH 44090
7:00
PM
First Baptist Church
1635 Fostoria Ave, Findlay, OH 45840
10:30
AM
Faith Baptist Church
9481 SR 212 NE, Bolivar, OH 44612
6:00
PM
First Baptist Church
518 North St, Caldwell, OH 43724
7:00
PM
Martindale Baptist Church
2406 Old Lewis Rd, Johnson City, TN 37601
7:00
PM
First Baptist Church
901 Roosevelt Blvd, Eleanor, WV 25070
3:46
AM
Ladies Conference at ABC
161 College Dr, Mt Hope, WV 25880
11:00
AM
Valley Independent Baptist Church
80 Old Route 219 , Huttonsville, WV 26273
7:00
PM
Beulah Baptist Church
210 Scenic Highway Summersville WV 26651
7:00
PM
Pewee Valley Baptist Church
331 Ash Avenue, Pewee Valley, KY 40056
7:00
PM
Faith Baptist Church
7505 Humbert Rd, Godfrey, IL 62035
7:00
PM
Calvary Baptist Church
1636 E Patriot Ave, Derby, KS 67037
7:00
PM
Woodson Avenue Bible Church
6701 Woodson Street, Overland Park, KS 66204
10:45
AM
Eureka Bible Church
86 Augustine Rd, Eureka, MO 63025
6:30
PM
Rolla Bible Church
1801 E 10th St, Rolla, MO 65401
3:46
AM
Whispering Winds Bible Camp
599 Mound Ridge Rd, Cook Station, MO 65449
6:00
PM
IFCA Annual Convention
3000 S Dirken Pkwy, Springfield, IL 62703
9:00
AM
Southern View Chapel
4500 S 2nd St, Springfield, IL 62703
6:00
PM
First Baptist Church of Martinsville
5 Trotter Lane, Martinsville, IL 62442
3:46
AM
Baptist Mid-Missions Conference
11400 Lagrange Rd, Elyria, OH 44035
7:00
PM
Cobbs Creek Missionary Baptist Church
2580 Garretts Bend Rd WV-214, Sod, WV 25564
10:00
AM
Grace Community Church
123 Tinnian Avenue, Beckley, WV 25801
6:00
PM
Temple Baptist Church
124 Reid St, Flatwoods, KY 41139
7:00
PM
Merriam Christian Chapel
3985 U.S. 33, Albion, IN 46701
7:00
PM
Berlin Baptist Church
1519 Jackson St, Marne, MI 49435
7:00
PM
Immanuel Baptist Church
2794 W Maplehurst Dr, Roscommon, MI 48653
6:30
PM
Community Bible Chapel
W 6507 US Hwy 2, Quinnesec, MI 49876
9:30
AM
Prior Lake Baptist Church
5690 Credit River Rd SE, Prior Lake, MN 55372
6:00
PM
Fourth Baptist Church
900 Forestview Ln N, Plymouth, MN 55441
7:00
PM
Mendota Bible Church
4131 N. St. Hwy 251, Mendota, IL 61342
6:00
PM
Charleston Bible Church
2605 University Dr, Charleston, IL 61920
7:00
PM
Dale Bible Church
300 E Vine St, Dale, IN 47523
7:00
PM
Weirwood Community Church
87 Willis Branch Loop, Pax, WV
9:30
AM
Bethel Baptist Church
15 Bethel Rd, Parkersburg, WV 26101
6:00
PM
Grace Gospel Church
1111 Adams Ave, Huntington, WV 25704
7:00
PM
Faith Brethren Bible Church
120 Chestnut Ridge Rd, New Paris, PA 15554
7:00
PM
Bethany Chapel
1003 Manor St, Marion Center, PA 15759
7:00
PM
Bakerburg Community Church
197 Gray Valley Rd, Mainesburg, PA 16932
7:30
PM
East End Baptist Church
263 Van Siclen Ave. Brooklyn, NY 11234
9:00
AM
Weekstown Community Church
5663 Pleasant Mills Rd, Weekstown, NJ 08215
6:00
PM
New Life Baptist Church
945 S. Dupont Hwy Milford, DE 19963
7:00
PM
Twin Valley Bible Chapel
105 Shirktown Road, Narvon, PA 17555
7:00
PM
Cross Life Bible Church
2127 Old Liberty Rd W, Westminster, MD 21157
7:00
PM
Fellowship Bible Church
160 Daniel Rd, Shenandoah Junction, WV 25442
7:00
PM
Hope Bible Church
7195 Oakland Mills Rd, Columbia, MD 21046
10:45
AM
Shenandoah Baptist Church
6520 Williamson Rd, Roanoke, VA 24019
6:30
PM
Colonial Baptist Church
221 Hillcrest St, Blue Ridge, VA 24064