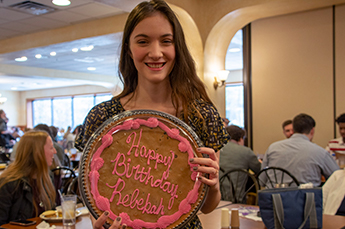 The Ladies Auxiliary ministers to the needs of students in two ways through the Heart-to-Heart program.
Parents, grandparents, friends and churches are able to order packages which are delivered to their student.
The funds from the purchases are used by the Ladies Auxiliary toward scholarships, senior recital receptions, married student gift cards, and other projects that help the ABC family.
If you would like to participate in the Heart-to-Heart program, please contact the Ladies Auxiliary.
Available Gift Packages
The gift packages are delivered to the student along with a card and your personalized message.
Breakfast Package - $12

Can of Orange Juice
Pop Tart
Package of Hot Chocolate Mix
Tea Bag
Small Package of Dried Fruit
Small Package of Fruit Snacks
Breakfast Cereal Bar

Special Occasion Party Package - $15

(must be ordered no less than 1 week prior to delivery, occasion is selected at time of purchase)

A Homemade, Decorated 8x12" Chocolate Chip Cookie
Plates
Napkin

Fruit Basket - $15

Assorted Fresh Fruits and Candies

Get Well Package - $10

Can of Orange Juice
Bottle of Sprite
Two Flavored Tea Bags
Microwaveable Chicken Soup with Saltine Crackers
Cough Drops
1 Package of Tylenol Tablets

Ultimate Snack Package - $12

Package of Cookies
Candy Bar
Bag of Chips
Package of Gum
* Tea or Large Hot Chocolate
Cheese Crackers
Bag of Popcorn
Fuze Fruit Beverage

* Indicate preference when ordering

Encouragement Cup - $10

ABC Mug
* Package of Hot Chocolate Mix or Tea Bag
1 Biscotti
Candy Kisses
1 Scripture Encouragement Card

* Indicate preference when ordering